There is no shortage of urgent issues facing Israeli society today, and Kolot is a beit midrash that takes an open and pluralistic approach to studying Jewish and contemporary sources that address those challenges. It is our goal to guide a conversation that deals with questions of individual and communal identity, struggles with social issues, and engages in a profound exploration of the basic values in a worthy society. The facilitators at Kolot are men and women, secular and religious, who represent a broad spectrum of educational backgrounds and worldviews, and the students are individuals from many different fields with a desire and ability to bring about action and change on a professional and personal level as well as in wider circles of society.
The following basic pillars are integrated into all of the programs at Kolot:
• "Loved is the individual created in the image of God"
• "The power of speech"
• "Relationship to the other"
• "The culture of disagreement"
• "Ownership and property"
• "Repair and repentance"
Our programs include:

• The Fellows Program—Each year, 80 fellows are chosen to engage in a two-year course of study with the goal of promoting a conversation about responsibility in the personal and public spheres.
• Break and Repair—This joint program between Kolot and MSR-Israel Center for Medical Simulation is intended to help senior medical practitioners discuss Jewish values in areas related to their work as caregivers.
• Program for Young Leadership—Young people who serve in key leadership positions discuss the crucial topics of Jewish identity, inequality, creativity, and tikkun (repair).
• Program for Public Sector Directors—This program is designed for directors and senior professionals who view their roles as public emissaries and understand their responsibility to promote the basic values of Israeli society. Also included: workshops, seminars, and training opportunities for senior professionals in the Prime Minister's office, the Division of Budgets at the Ministry of Finance, the Intelligence Unit of the IDF, the Mossad, and the Foreign Ministry.
For more information: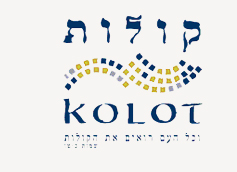 Address: Kolot, 17 Rachel Imeinu Street, Jerusalem 9314519
Phone: 02 563-8460
Fax: 02 563-8461
Email: kolot@kolot.info
Web: www.kolot.info